Previous: What does Mattel have in common with Syria? (172)
Illegal Art
Post #726 • February 8, 2006, 7:21 PM • 8 Comments
Right now, the Committee on the Judiciary is reviewing Bill HR 683, called the The Trademark Dilution Revision Act of 2005. According to Public Knowledge, once upon a time, there was a Trademark Act of 1946. The idea behind the defense of trademarks was consumer protection - to prevent another airline besides United from calling itself United, to use the example from PK. It would not have applied to United Underwear, because the no one was going to try to book a flight from Dallas to Fresno with a panty boutique.
During the 90s, the idea of trademark dilution arose. This view asserts that United Underwear does undermine United Airline's ability to distinguish itself as a brand. A revision to the Trademark Act callled the Federal Trademark Dilution Act was passed in 1996. Two years later, under this act, Victoria's Secret sued Victor's Little Secret, a sex toy shop. Fortunately, Victoria's Secret lost. According to PK, the Supreme Court ruled that "trademark holders should only succeed in dilution claims that demonstrate actual blurring rather than tarnishment."
HR 683 revises the wording of the Trademark Act like so:
Subject to the principles of equity, the owner of a famous mark that is distinctive, inherently or through acquired distinctiveness, shall be entitled to an injunction against another person who, at any time after the owner's mark has become famous, commences use of a mark or trade name in commerce that is likely to cause dilution by blurring or dilution by tarnishment of the famous mark, regardless of the presence or absence of actual or likely confusion, of competition, or of actual economic injury.
So if it passes, corporations would only have to demonstrate the likelihood of blurring or tarnishement, not actual blurring or tarnishment. It seems to allow for parody and comment, claiming that the following is not actionable:
Fair use of a famous mark by another person, other than as a designation of source for the person's goods or services, including for purposes of identifying and parodying, criticizing, or commenting upon the famous mark owner or the goods or services of the famous mark owner.
But art that does none of the above would become the subject of legal action. For that matter, if you used "Where's the Beef?" in reference to something unrelated to Wendy's, you'd be infringing its trademark. Warhol's Cambell's Soup can paintings? Jasper Johns's Ballantine Ale sculptures? Out of the question.
I recommend that you take this seriously, and Illegal Art, currently up at the Art & Cultural Center of Hollywood, shows why. The show is a mad romp through low culture, satire, independent animation, hijacked video footage, and cartoon porn, and you should calibrate your aesthetic expectations accordingly. The heavy kick in the show comes from the wall labels. Consider this, alongside some surrealistic interpretations of VW Bugs by Donald B. Stewart:
In January of 2006, Volkswagen threatened Stewart with legal action, demanding that he stop selling prints of "VW Bug" and remove images from his website. The artist was lucky enough to secure pro bono legal counsel, who advised him against caving to Volkswagen's demands. Stewart's work thus remains online. Whether Volkswagen follows up with a lawsuit or not remains to be seen.
Or this, next to a comic book:
In 2000, a year after Kieron Dwyer made comic books, T-shirts, and stickers with his version of the Starbucks logo, the company sued him, obtaining an injunction that prevented Dwyer from using the parody until the case was scheduled to go to court over a year later. When the case was finally settled, Dwyer was allowed to continue displaying his logo but only in extremely limited circumstances. No more comic books, T-shirts, or stickers: he may post the image on the web but not on his own website -- nor may he link from his website to any other sites that show the parody. In short, Dwyer is permitted to use the logo as long as Starbucks can be confident that no one will see it.
Or the one next to a series of altered book covers by Natalka Husar:
Taken from the exhibition Blond with Dark Roots, this 16-part series uses the format of 1950s and '60s romance novels to present the experiences of a young Ukrainian immigrant. To create these images, Husar bought romance novels at thrift stores, removed their covers, left the title of each book intact, changed the publisher's logo to "A Husar Romance," and painted over the rest of each cover with her own image.

In May 2002, Husar received a letter from Harlequin Enterprises Ltd. accusing her of violating the moral rights of its authors, artists, and editors. The company is demanding that Husar either alter the existing paintings or stop including them in exhibitions.

Husar has hired a lawyer and plans to fight the publisher's accusations.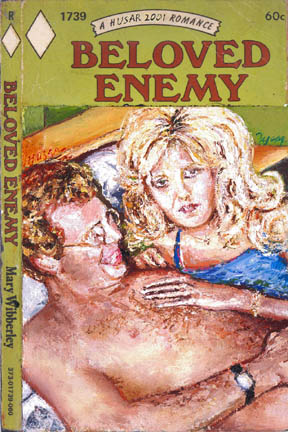 (Alesh has more images.)
And that's under present copyright law. Let's have that bit of Constitution again:
Congress shall make no law respecting an establishment of religion, or prohibiting the free exercise thereof; or abridging the freedom of speech, or of the press; or the right of the people peaceably to assemble, and to petition the government for a redress of grievances.
Mattel, Disney - the exhibition includes several corporations that you grew up with, attempting to sue artists and sometimes succeeding. Some of the works in the show seem like mild transgressions - a song used without permission here, some remixed CNN footage there. But overall, the effect is frightening. We live in the land of the free, but even our freedom suffers from erosion.
The great religious traditions and the democracies of the world share a common concern: liberation - from suffering, fear, Pharoah and everything he represents, all leading up to a delicious cocktail with equal parts of life and the pursuit of happiness here in the States. Civilization moves towards increasing freedom, in defiance of barbarism that demands more control. In freedom, liberation, enlightenment, you control yourself. Robert Henri once described two tracks of history - one that goes up and down according to the vicissitudes of current events, and another, the artist's, that goes ever upward into greater understanding. Which one do you believe in?