Previous: new digs for basel (28)
Next: dorsch gallery, edge zones (24)
wake
Post #418 • November 30, 2004, 7:19 AM • 70 Comments
I got images. I got images of recent art shows coming out of my ears. But I'm so exhausted from a day of life in Miami that the computer screen is going blurry and taking the rest of the room with it. Because I have no TV, I've been reading old Artblog.net posts. Life in the fast lane, people.
Since I'm almost too tired to blink, I've decided to go with the big spread of images on Wednesday and was going to put up a quote or something when Snitzer Gallery sent me this gem of a press release:
In "Untitled (Ocean)" a lone female figure rises from the sea like an ancient creature, her back and breast blending into the darkening dusk while her raised machete gleams from the last light of the day. It is a mournfully triumphant image, romantic in the wake of pre-Raphaelite paintings, and glamorously gory battle scenes. The power of the image is that her gesture embodies all women, from mythical goddess to cast out whore. Like a reversed Ophelia she rises from the sea to battle an empty horizon, acting out a hybrid role of women as portrayed throughout art history: from winged Victory leading battles; Salome crying for the head of John the Baptist; channeling Medusa in her snake-like hair; Judith with her heavy sword raised; Venus birthing from the sea; to the Sirens leading sailors astray...
Ellispes courtesy Snitzer Gallery. We're discussing this image by Naomi Fisher: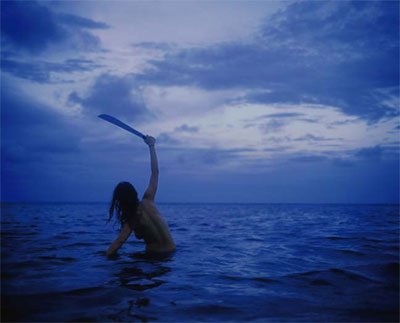 I couldn't write something that campy about it if I spent a week reading Joseph Cambell in front of daytime soap operas. I disagree with the above assessment, needless to say; I think she looks like she's doing something naked and histrionic. Again. It reinforces my many-worlds theory about the art world - she's in the art world, I'm in the art world, but it's not the same art world. Our two art worlds touch but don't overlap. In my art world, wake doesn't equal manner. In her art world, if a work of art makes you think about enough things, it succeeds.
But in this case, only the press release makes me think about the "hybrid role of women as portrayed throughout art history" and whatnot. The photograph itself makes me think that they have some kind of vat full of self-importance over at New World that they force-feed their students like they were geese being fattened for foie gras. The photograph gives me a chuckle; frankly, I feel embarassed for the artist.
But the fact that people buy the kind of absurdity stated above troubles me. Maybe it has always been thus, but reality seems to be leaking out of the world, replaced by spin. It's sad that stating the obvious has become a subversive activity, but here goes: the photo looks like competent art-student work, and the claims being made for it are unadulterated twaddle.